Another Club Upgrading Their LEDsynergy Scoreboard With the Newest Technology
In 2014, LEDsynergy installed an LED scoreboard at Ebbsfleet United FC, 8 years on and we have just installed a newer and better LED scoreboard. Like, Basingstoke Rugby Club (see that story in News), they have put their faith in LEDsynergy once again to supply and install a quality, impressive small video scoreboard.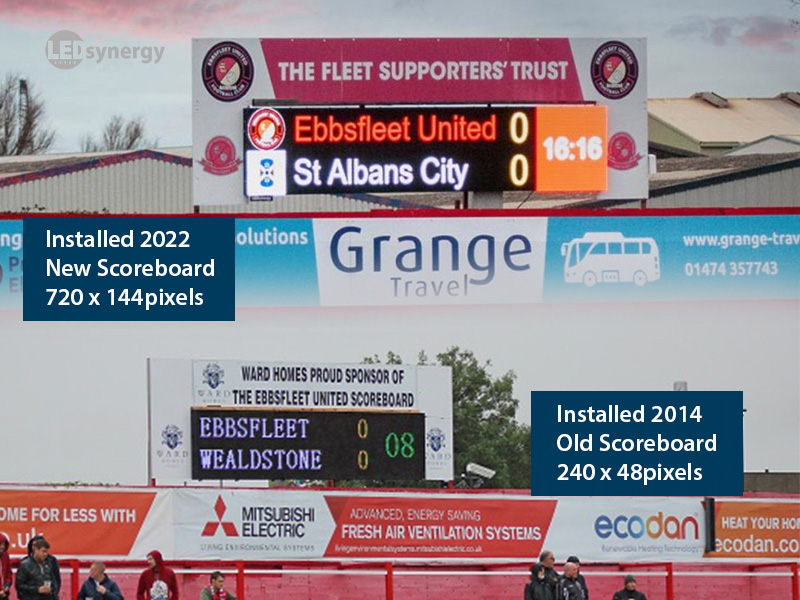 And like Basingstoke, the size is somewhat similar, but the resolution is much better and the new scorebaord also gives the Club the option to show images and simple video, unlike the old scoreboard which was just text. Technology has moved on hugely in that time and the new scoreboard gives them the opportunity to sell adverts on the scoreboard to sponsors and advertisers creating a revenue stream. Of course the Club can also use the scoreboard to show Club information, welcome images and so forth.
Our in-house LEDsynergy Scoreboard Software has been developed here in the UK by our team of software engineers. It is extremely user friendly and generally operate from a laptop controller either wired or wireless. In some instances, a mobile device can be used, depending on wi-fi.
Our software has the capability for larger video scoreboards to show not only the scores, Club information and sponsor advert but also 'live video feed' or 'slo-mo' replays. For more information on our software, just give us a call or Click here.
Once you have bought your scoreboard and LEDsynergy software, then the software is YOURS! Unlike many other Scoreboard companies we do NOT charge and ongoing fee or subscription, once you've paid it's completely yours, saving you money.
Our outdoor full colour scoreboards come in various sizes from a fairly small 3 metre x 1 metre up to as large as you'd like. A popular size is around 5 metres by 3 metres. For more information on our outdoor full colour scoreboards – Click here.
Fantastic! - Replacing a scoreboard originally installed by LEDsynergy in the late 90's!
Gerry Mc Mahon
Broadwood Stadium - Clyde FC