If you are looking for a range of smaller, low cost LED scoreboards then we have a couple of options for you. We have recently introduced our brand new range of LED simple scoreboards that will certainly meet your requirements. In addition, we also have our full colour video scoreboards available but in a smaller size, giving you the capability of full colour but at a lower cost. Both are an easy and cost effective way for smaller clubs to have the advantage of owning an electronic scoreboard but without the cost of a full colour display.
Our new range of simple scoreboards comprise of a full colour printed aluminium backing plate with fixings for post or wall mount, simple full colour LED display units are mounted onto the front of the plate in the desired layout. You can be truly imaginative with your printed graphics showing dynamic images as well as your Club name and logo. The LED text can be set in various colours to suit and you have the option to include a message display.
Whether you have static vinyl lettering for HOME/VISITORS with just LED score and time, or whether you have fully programmable displays for teams and scores, we can supply an LED scoreboard within a tight budget. Of course, you can have an area for sponsorship and even recoup the cost by getting your sponsor to pay for the scoreboard.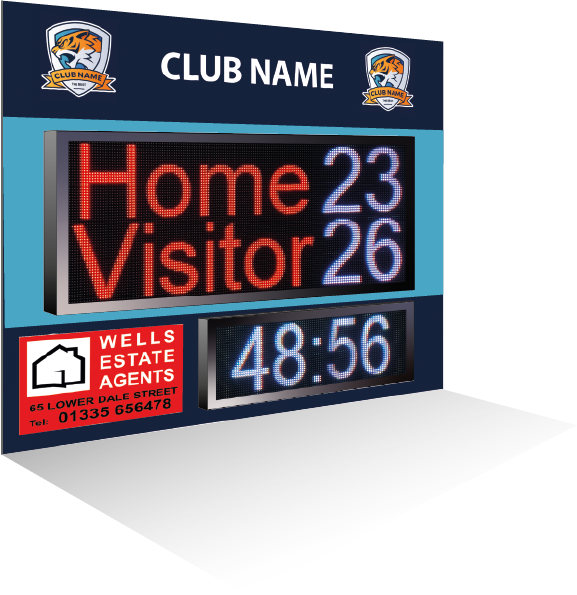 Small Full Colour Video Scoreboards
More than just a 'Scoreboard', not only do our video scoreboards show Teams, Scores and Times during a match but, depending on size, a multitude of information for your supporters such as Players images, Sponsors, Adverts, Videos, General Information and Competitions.
During a match or game you can show the scores and times along with goals / trys / points scored, but in addition you can intersperse with adverts for sponsors. Before the match you can show the names and photos of the teams playing along with any video adverts for paying sponsors. During half time you can show information on raffles, general Club information and again sponsor adverts.
Whatever your budget and whatever size you are looking for we have a solution for you. The choice is really yours!
Unlike other companies, who will charge you an ongoing 'license fee' to use their scoreboard software, once you have purchased your LEDsynergy Scoreboard with our bespoke software then its yours and you are free to use it as long as you wish!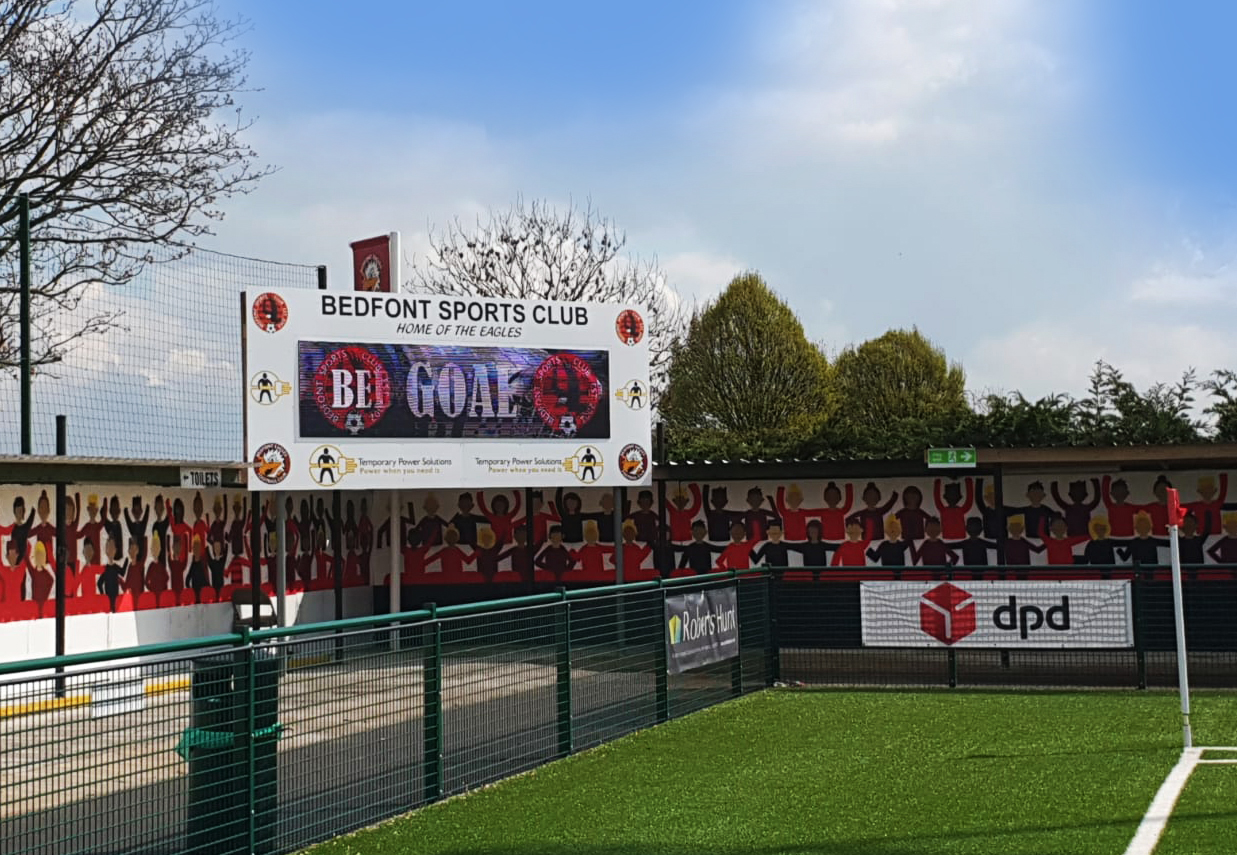 We are very happy with our new screen and the installation went really well with your guys doing a fantastic job.
Phil Ling
Buckmore Park Karting
LEDsynergy – The LED Simple Scoreboard Experts
Market Experts - With over 40 years' experience in the LED scoreboard industry, there is nothing we don't know about LED simple scoreboards
UK Made - All of our LED simple scoreboards are UK designed and built, so you can rest assured that they are built to last
Value For Money – Our LED simple scoreboards are very competitively priced and offer outstanding value for money
Bespoke Software – Not only do we design and build our own scoreboards, but our in-house software developers can also create bespoke software for your scoreboard
No Unnecessary Upselling - We will only ever sell you a scoreboard that is right for you. We will never encourage you to spend money on things you don't need
Customer Service – Our friendly team are always on hand to offer help and advice, whenever you need it
Physical Showroom – Unlike many online scoreboard suppliers, we have a showroom in Andover, Hampshire, where you can come and look at our range of simple scoreboards before you order
Nationwide – We can deliver and install your LED simple scoreboard, anywhere in the UK
If you would like to find out more about our range of LED simple scoreboards, call us today on: 01264 303030. Alternatively you can drop us an email at: sales@ledsynergy.co.uk or fill in our Contact Form and one of the team will get back to you shortly.