LED Outdoor Video Scoreboards
Kick it up a gear with one of our outdoor video scoreboards.
Large format, full colour outdoor electronic scoreboards and video walls are now the norm in large stadiums. Not only can they display scores, team and player details, and match times, but they can also live stream video as it happens and show close ups and action replays.
Another huge advantage of having these types of full colour outdoor scoreboards is that they can be used as advertising boards. Many companies are very keen to advertise their products and services on outdoor sports scoreboards, as the screen is a major focus within the stadium. It is extremely prominent and frequently looked at, especially prior to the match and at half time when there is little else to look at.
Full colour LED waterproof scoreboards such as these have become increasingly more affordable for even smaller clubs, as they can often pay for themselves with the additional revenue they can bring from advertising. Our large screen video scoreboards are a common site at sports clubs around the UK, with sports such as football, rugby, cricket, also athletics, karting, horse racing and more using them.
When you buy one of our scoreboard packages, you have complete peace of mind that you will have not only a stunning LED Scoreboard Screen, but also bespoke scoreboard software, tailored specifically to your club's needs by our in-house software designers.
Recently Installed Large Format Scoreboards
We have recently installed large screen LED scoreboards at two large football clubs.
Notts County FC wanted two large LED scoreboards at each end of their stadium installed onto the roof. Once the steel structure was in place, the LED screens were installed. The overall size of each screen is 4.8 x 2.88 metres with an LED pitch of 10mm.
The larger screen at Clyde FC measures some 5.76 x 3.84 m, and is installed up against a wall section behind the seating area. The stadium is also used for Rugby matches, so different LEDsynergy apps are used for both.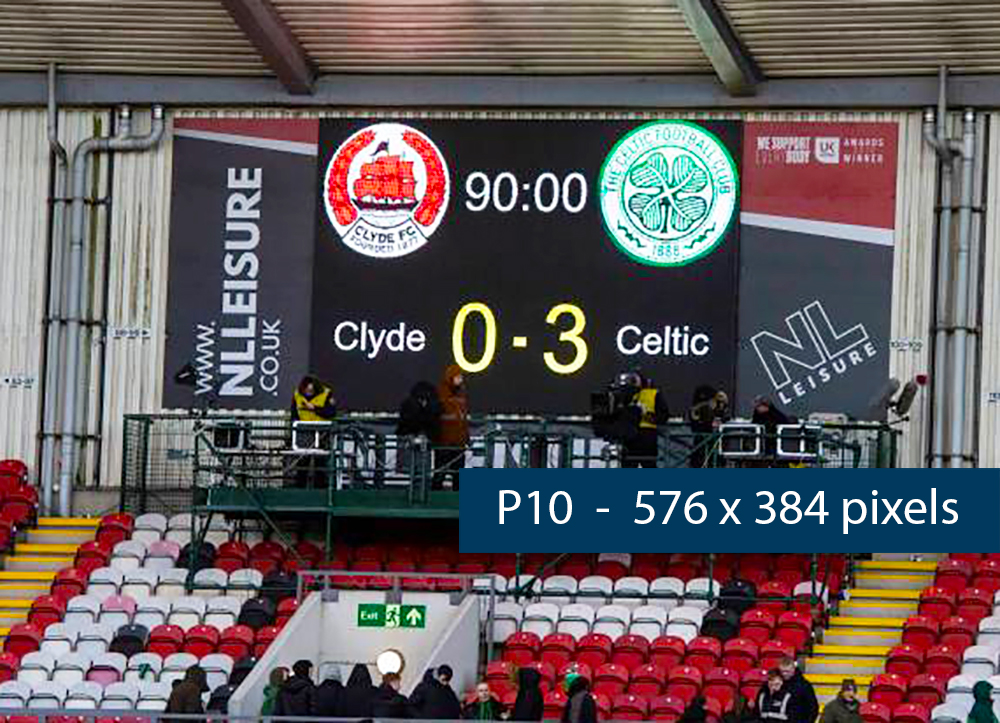 Our Full Colour outdoor game scoreboards are extremely versatile. If your stadium or sports ground is used by a number of different sports clubs, we can set up the software on the LED scoreboard so that it can be utilised by all the clubs. Layouts and colours can be changed to suit each club and sport.
You can also easily switch between scoreboard view and video view or even combine the two. This can be a very useful feature during a match, allowing you to show slo-mo action replays. Either during a match or before/after you can show sponsor adverts or videos, or club general information.
If you share a sports ground or host different sporting events, our outdoor portable scoreboards are a convenient and versatile option. Portable outdoor scoreboards are weatherproof, durable, and easy to set up and transport. With bright LED displays, they allow for easy visibility of the score and time from a distance.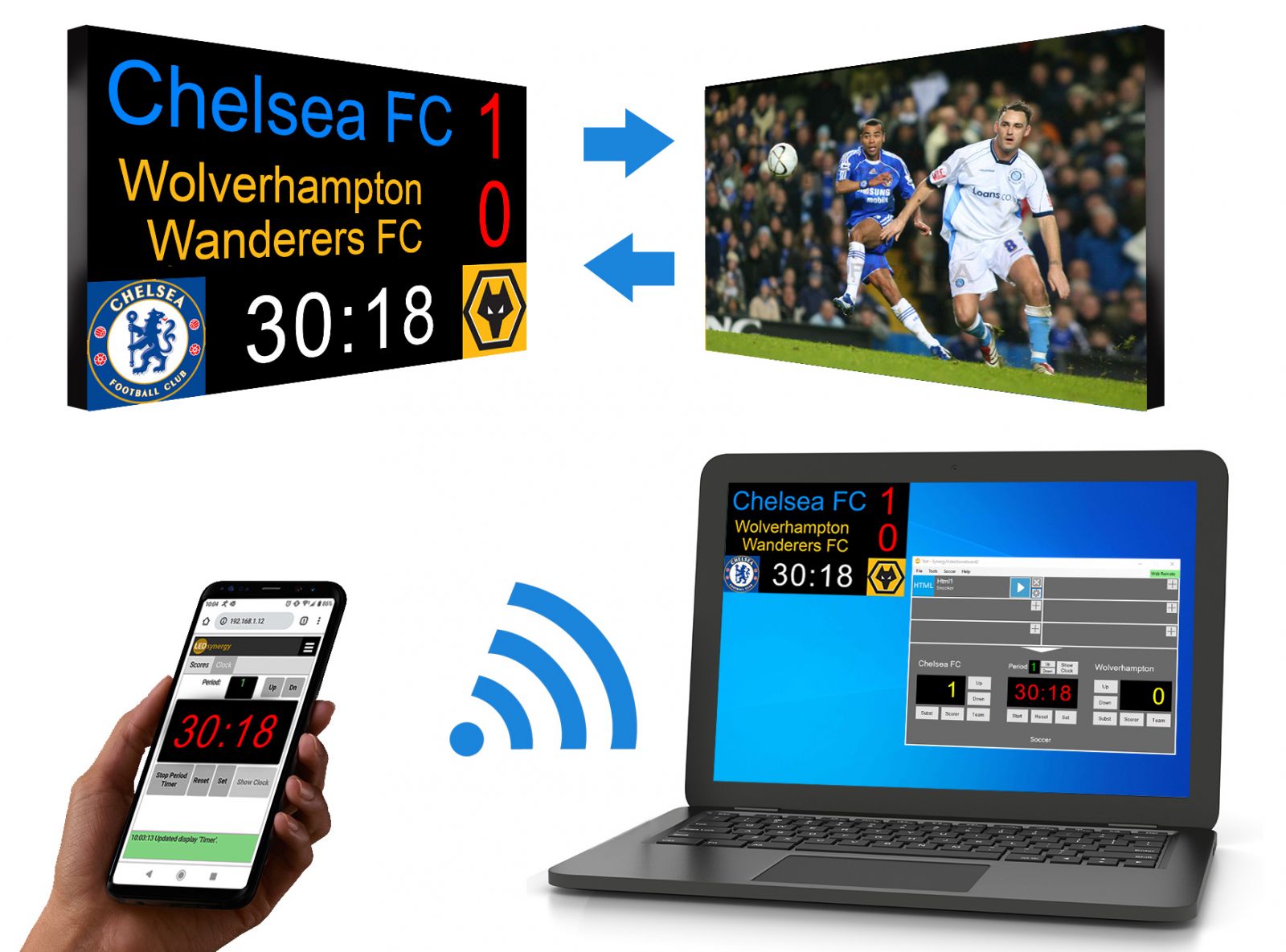 No Further Software Costs
Unlike other companies who will charge you an ongoing 'licence fee' to use their scoreboard software, once you have purchased your LEDsynergy scoreboard with our bespoke software then it's yours and you are free to use it as long as you wish!
To find out more about our stunning large scale full colour video scoreboards, pick up the phone and give us a call. We like to talk!
We are very happy with our new screen and the installation went really well with your guys doing a fantastic job.
Phil Ling
Buckmore Park Karting
LEDsynergy – The LED Outdoor Video Scoreboard Experts
Market Experts - With over 40 years' experience in the LED scoreboard industry, there is nothing we don't know about LED outdoor video scoreboards
UK Made - All of our LED outdoor video scoreboards are UK designed and built, so you can rest assured that they are built to last
Value For Money – Our LED outdoor video scoreboards are very competitively priced and offer outstanding value for money
High Resolution – Our LED outdoor video scoreboards are high resolution as standard, to ensure crisp, detailed video quality
Bespoke Software – Not only do we design and build our own scoreboards, but our in-house software developers can also create bespoke software for your scoreboard
No Unnecessary Upselling - We will only ever sell you a scoreboard that is right for you. We will never encourage you to spend money on things you don't need
Customer Service – Our friendly team are always on hand to offer help and advice, whenever you need it
Physical Showroom – Unlike many online LED scoreboard suppliers, we have a showroom in Andover, Hampshire, where you can come and look at our range of scoreboards before you order
Nationwide – We can deliver and install your LED outdoor video scoreboard, anywhere in the UK
If you would like to find out more about our range of LED outdoor video scoreboards, call us today on: 01264 303030. Alternatively you can drop us an email at: sales@ledsynergy.co.uk or fill in our Contact Form and one of the team will get back to you shortly.