Accessories for LED Scoreboards
When you are buying your LED Scoreboard there are many optional accessories that you can add to make your system more specific to your sport or to enhance the experience. From slow motion replay enabling you to play back to the supporters in slo-mo, specific scoring controllers or timing and starting systems.
Slow Motion Playback and Recording
The system is for high definition video slow playback which can be widely used in live sporting events, with the functions of HD video recording and slow motion replaying. It can provide the producer with rich live videos from multi-camera in different angles so that they can do quick local edition locally for living, TV and Internet broadcast.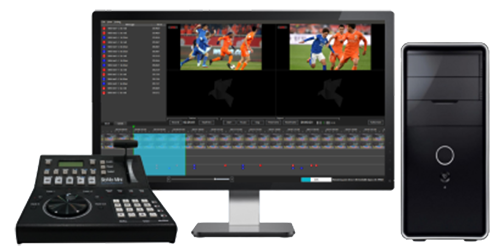 Features
4 channels video recording and instant replaying simultaneously.
2 channels independent output.
SDI Input in 1080P mode.
Slow playback the great shots in different speed, in multi-angle with broadcast quality video signal.
Live slow-motion video can be used for network broadcast, LED display and local preview.
Integrated with Title maker system, to show the live-score on the slow-motion video synchronously.
Referees Tablet
The tablet can be used to update the scoreboard. Sports such as: Rugby, Basketball, Badminton, Volleyball, Gymnastics, Water Polo, Diving and more.
Scoring Controller
Simple scoring for each player, wireless up to 20 metres.  Vibration alerts and long standby. For sports such as: Boxing and Martial Arts.
Referee Console
Manage all the devices from one host. High precision timing, modify players scores, real-time data input. Sports such as: Basketball and Ice Hockey.
Wireless Host and Hand Held
Wireless communication up to 20 metres. Sports such as: Gymnastics, Figure Skating, Dressage, Diving, Parkour and more.
Wireless Host
Supports 5 wireless scoring controllers and 2 electronic body protectors. Wireless up to 20 Metres, for sports such as Taekwondo.
Wireless Photocell and Transmitter
The photocell will detect the cut off of light and transmit wireless signal, and transmitter to transmit trigger time, for Show-Jumping.
Signal Controller
Mainly for Motor Racing this controller is the main controller during a race, other devices are required, call for further details.
Starting System
Consisting of a wireless host, handheld, terminal and flash indicator. Sports such as: Track, Sped Skating, Rowing, Horse Racing, Cycling, Karting and more.
Automatic Starting System
As you can see from the image left the Track Timing System is an automatic timing system and can be used as shown with the Starting Host, Starting Handle and Flash Indicator at the Start line with the Terminal Timers at the Finish line.
If you'd like to know more about our range of Scoreboard Accessories, then please give us a call and we would be happy to discuss your requirements.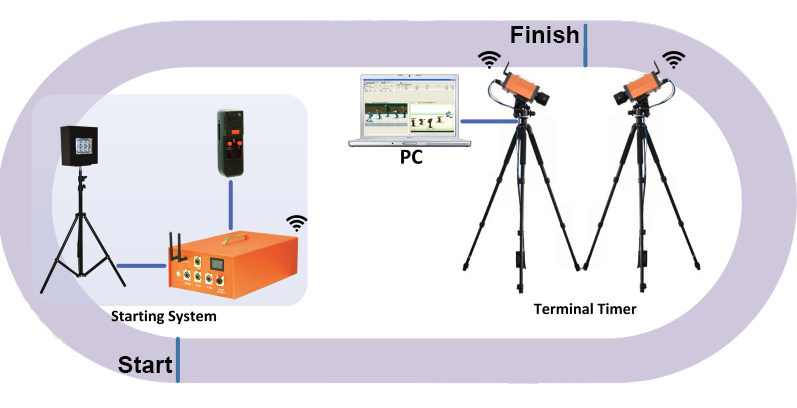 Fantastic! - Replacing a scoreboard originally installed by LEDsynergy in the late 90's!
Gerry McMahon
Broadwood Stadium - Clyde FC
LEDsynergy – The LED Scoreboard Accessory Experts
Market Experts - With over 40 years' experience in the LED scoreboard industry, there is nothing we don't know about LED scoreboards and accessories
No Unnecessary Upselling - We will only ever sell you accessories for your scoreboard, if you need them. We will never encourage you to spend money on things you don't need
Customer Service – Our friendly team are always on hand to offer help and advice, whenever you need it
Physical Showroom – Unlike many online scoreboard suppliers, we have a showroom in Andover, Hampshire, where you can come and look at our range of scoreboards and accessories
Nationwide – We can deliver and install your LED scoreboard and accessories, anywhere in the UK
If you would like to find out more about our scoreboard accessories, call us today on: 01264 303030. Alternatively you can drop us an email at: sales@ledsynergy.co.uk or fill in our Contact Form and one of the team will get back to you shortly.