LED Electronic Football Scoreboards
We supply a wide range of electronic football scoreboards to football stadiums, smaller football clubs, and schools and colleges throughout the UK.
Over the years we have installed many LED football scoreboards for football clubs at all levels, from small non-league clubs, through to Premier League clubs. We also supply scoreboards to school and college football teams. Regardless of the budget available, we will supply a football scoreboard which meets your needs.
Whether you are looking for a simple cost-effective football scoreboard such as an LED scoreboard with static vinyl lettering and LED scores, or a large outdoor full colour video screen scoreboards for football, speak to us and we will find the perfect solution to meet your requirements.
Recently Installed Football Scoreboards
We have recently installed large screen LED scoreboards at two major football clubs.
Notts County FC wanted two large LED scoreboards installed onto the roof at each end of their stadium. Once the steel structure was in place, the LED screens were installed. The overall size of each screen is 4.8 x 2.88 metres with an LED pitch of 10mm.
A larger screen at Clyde FC measured some 5.76 x 3.84 m and was installed up against a wall section behind the seating area.
At a football stadium or football ground, sports LED displays and scoreboards can be installed at each end of the pitch for greater effect if budget allows, or as a single display at the half-way line.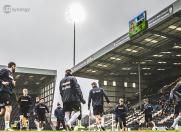 Our football stadium scoreboards are very flexible and can be used for advertising and information as well as simply showing the football scores and goal scorers. During the match you can also easily switch between scoreboard view and video view, or even combine the two. You can also show sponsor adverts or videos, general club information before or after the match, or half time announcements on our versatile range of scoreboards for football.
The football scoreboards can easily be operated by a laptop controller with LEDsynergy scoreboard software, whereby each team's statistics, player profiles, or adverts can be configured before the match and simply operated by the click of a button. Alternatively, the scoreboard can be operated on a mobile device connected by wi-fi to the controller giving you full flexibility and ease of use.
All of our outdoor electronic scoreboard displays are built with the UK weather in mind and are fully waterproof!
The sign is working very well and appears to be speeding up our processes, a good investment so far
LEDsynergy – The LED Football Scoreboard Experts
Market Experts - With over 40 years' experience in the LED scoreboard industry, there is nothing we don't know about LED football scoreboards
UK Made - All of our LED football scoreboards are UK designed and built, so you can rest assured, that they are built to last
Value For Money – Our LED football scoreboards are very competitively priced and offer outstanding value for money
High Resolution – Our LED football scoreboards are high resolution as standard, to ensure crisp, detailed video quality
Bespoke Software – Not only do we design and build our own scoreboards, but our in-house software developers can also create bespoke software for your scoreboard
No Unnecessary Upselling - We will only ever sell you a scoreboard that is right for you. We will never encourage you to spend money on things you don't need
Customer Service – Our friendly team are always on hand to offer help and advice, whenever you need it
Physical Showroom – Unlike many online LED scoreboard suppliers, we have a showroom in Andover, Hampshire, where you can come and look at our range of football scoreboards, before you order
Nationwide – We can deliver and install your LED football scoreboard, anywhere in the UK
If you would like to find out more about our range of LED football scoreboards, call us today on: 01264 303030. Alternatively you can drop us an email at: sales@ledsynergy.co.uk or fill in our Contact Form and one of the team will get back to you shortly.