Yeovil Town FC – Keeping up with the Times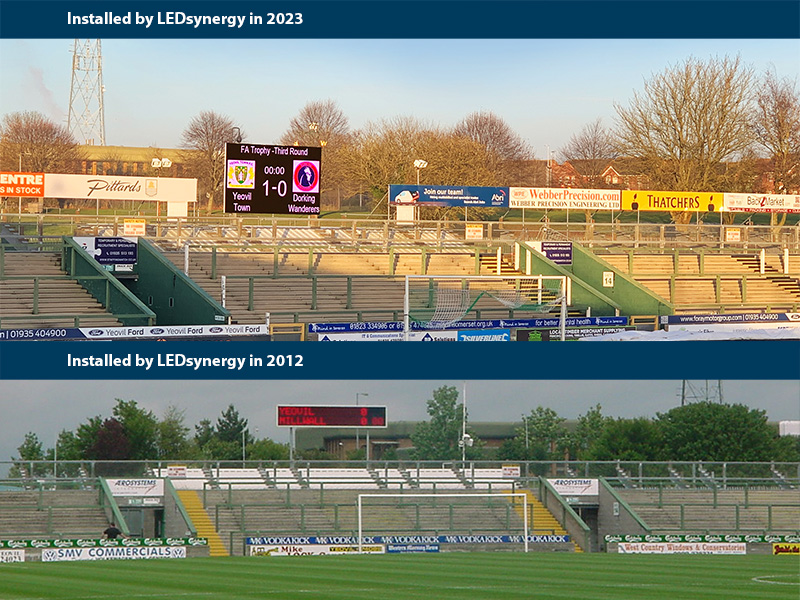 Back in 2012 we installed a large LED scoreboard into Yeovil Town FC, at the time it was fairly cutting edge, showing scores and Club information. In the last 11 years LED screens and scoreboards have moved on enormously and Yeovil Town Football Club are certainly embracing this.
We have just installed in the same position, a large scale stunning full colour Video Scoreboard. Some 5 metres by 3 metres in size, it is an amazing addition to the Club.
Not only does it, obviously, show the current scores and time along with Club information, but the screen can be used as an advertising billboard for sponsors before, half time and after the match. Video adverts and animation from Club sponsors can increase a Club's revenue enormously.
The video scoreboard has been gratefully received by the Club and supporters alike.
If your Club is interested in finding out how a stunning new scoreboard can enhance your Club then give us a call on 01264 303030 or drop us an email on sales@ledsynergy.co.uk
Fantastic! - Replacing a scoreboard originally installed by LEDsynergy in the late 90's!
Gerry Mc Mahon
Broadwood Stadium - Clyde FC