Rugby – We're Keeping the Score!
LEDsynergy have been installing LED electronic rugby scoreboards for many years. From a basic digit scoreboard where the Club is working within a tight budget up to a full colour video board.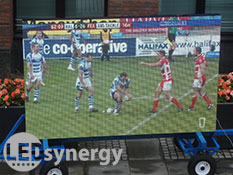 We have installed many into schools and colleges as well as rugby clubs up and down the country.
These outdoor LED scoreboards are ideally suited to spectator sports and can instantly be updates at the touch of a button with our bespoke Rugby scoreboard software.
Whether you opt for a simple digit scoreboard, a full colour video board or anything in between to can be sure that your spectators are being kept fully informed throughout the game.
With a full colour display you have the added benefit of running adverts throughout the game or before, halftime and after the game. This can boost your revenue by selling adverts to local companies helping to pay for the display.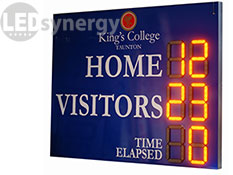 Even the simple digit scoreboards can be customised using your club's colours and crest along with static graphics.
If you want to find out more about our range of rugby scoreboards then go ahead and give us a call and we would be pleased to discuss it with you.
Fantastic! - Replacing a scoreboard originally installed by LEDsynergy in the late 90's!
Gerry Mc Mahon
Broadwood Stadium - Clyde FC