As both the Olympic and the Paralympics Games are packed away for another four years, LED Synergy reflects back on its performance in the run-up and during the 2012 Games.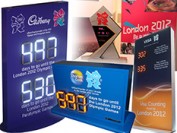 LED Synergy, working with technology partner Panasonic, was responsible for providing visitors and athletes with way-finding information across the Olympic Park and the Athletes Village using strategically placed video boards and information stations.
LED Synergy provided the technology, infrastructure and all the constantly changing real time content updates. A dedicated LED Synergy team was onsite daily and responsible for updating all information as it became available right across the Olympic Park. This included uploading up to the minute information on a host of topics including travel news, bus scheduling and event timetables, along with breaking news about certain events.
LED Synergy also designed and installed the LED driven information queuing systems on the 60 tailoring booths that were used to measure and issue the 300,000 plus Games Makers with their now familiar uniforms. Equally, keeping all competitors and support teams in the Athletes Village informed about event times, travel facts and other timely information was just as important so LED Synergy designed, installed and managed the information displayed on free standing screens to communicate daily with them.
And if that wasn't enough, LED Synergy even got visitors to the games and safely back home, with TFL (Transport for London) commissioning LED Synergy to install a series of LED signs on the main A13 that circles the Olympic Park, to communicate travel status.
"We like to think that with these projects we made a real difference to the competitors, the officials and the spectators, making the overall experience more enjoyable and the 2012 game run more smoothly" stated Jeremy Harwood at LED Synergy. It was a mammoth and quite intensive task, particularly managing the constant information updates that were then instantaneously transmitted out to the appropriate boards. If LED technology was an Olympic event, we would have won a Gold medal.
Fantastic! - Replacing a scoreboard originally installed by LEDsynergy in the late 90's!
Gerry Mc Mahon
Broadwood Stadium - Clyde FC