LED Scoreboards – Salisbury FC – Keeping up with Technology
Up and down the country; football, rugby and other clubs are undergoing a quiet revolution when it comes to adopting the latest generation of LED displays, and it's no longer just the big league teams that are now buying into this technology.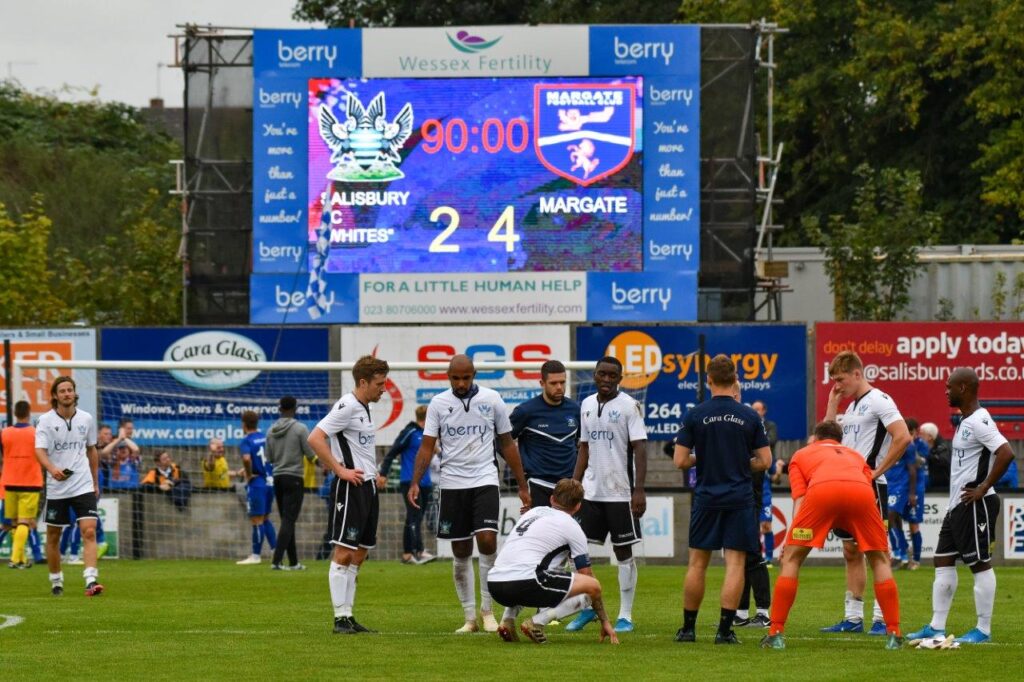 Whether it's a digital, full colour 'all singing and all dancing' LED scoreboard down to the more cost effective end of the market, a simple 7 segment LED digit scoreboard, then Clubs are getting on the technological bandwagon!
LEDsynergy install a lot of LED scoreboards and have done over the 35 years we've been around.
One example of a lower league football club keeping up with the technology boom is Salisbury FC based in Wiltshire. LEDsynergy installed their first LED scoreboard in 2006 which consisted of a simple LED digit display and a scrolling message line, simple but perfect for their first dabble into electronic displays.
We next installed a larger full colour scoreboard in 2012, which meant a huge jump up from their digit scoreboard meaning they could add team crests and use colour.
In 2019 we installed a stunning full colour video scoreboard, which has the capability to do what they want!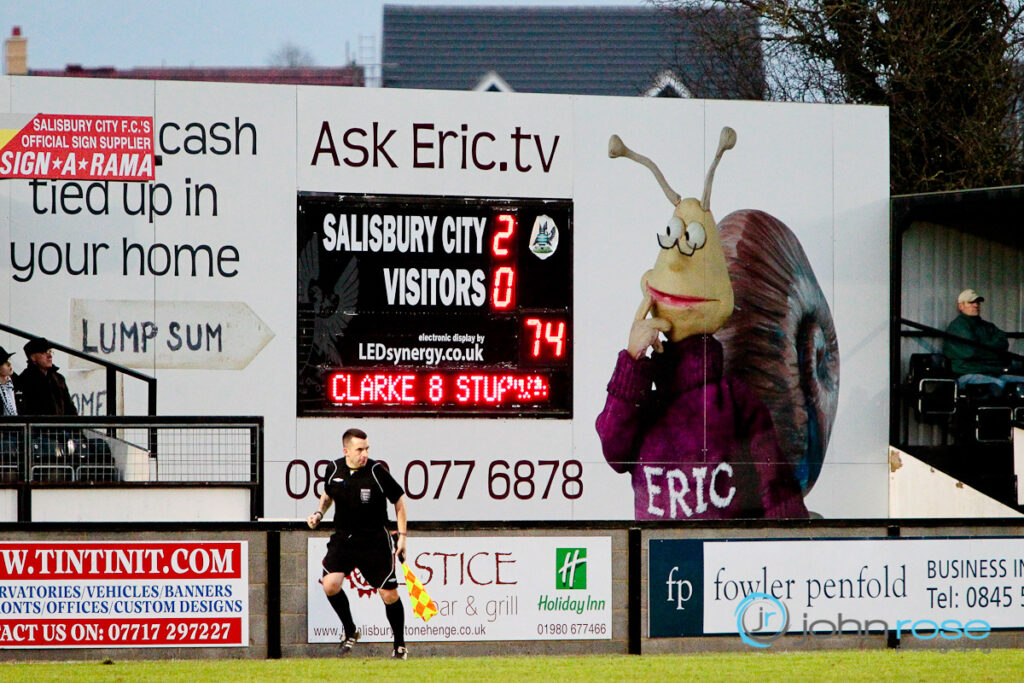 As well as a completely different format for the scoreboard, they can run high resolution sponsors adverts, stunning video, animation and much more. This scoreboard takes Salisbury FC to the next level of stadium entertainment for their supporters and visitors.
The technology has progressed significantly over recent years, making digital colour displays a cost effective option for providing information to the supporters in the stadium. In many cases the clubs also offer advertisers an opportunity to buy slots on the board to run their own animated promotions and this means the hardware quickly pays for itself and then goes on to provide a good source of additional revenue for the club.
Each display is driven from a connected PC or tablet using a simple software programme that is also supplied during the installation. In addition to the traditional scoreboard function, the boards are typically used to provide information on future club events, fixtures, news, traffic details, and even personalised information like birthday wishes and club raffle prize winners."The interactive nature of these colour LED displays means that the supporters look at them far more frequently during a match and also take in much more of the information being displayed, which is what makes them a powerful information delivery and advertising medium," explained Jeremy Harwood of LED Synergy.
"We've also received a number of comments via the clubs about spectators that are either hard of hearing or profoundly deaf saying that they feel more included as until now much of this information was previously only broadcast over the club's PA system."
Jeremy Harwood concluded: "Our cost effective package and installation service means that clubs can be up and running relatively quickly. We also regularly provide advice on how to achieve the best results for advertising content and the additional revenue this can generate for the clubs can quickly pay for all the equipment required."
Recent installations of full colour scoreboards are from the top; Oxford City FC, Rotherham FC and Macclesfield Town FC.
Whatever your sport, however large your Stadium is and whatever your budget is, we will have an LED solution for you, so why not give us a call on 01264 303030 and get on the technological bandwagon too..!
Fantastic! - Replacing a scoreboard originally installed by LEDsynergy in the late 90's!
Gerry Mc Mahon
Broadwood Stadium - Clyde FC