Broadwood Stadium – Now and Then!
Broadwood Stadium in Cumbernauld, Glasgow is a multi-use community stadium and sports complex. The stadium is used by two football clubs: Clyde FC of the Scottish Professional Leagues and Cumbernauld Colts of the Scottish Lowland Football League.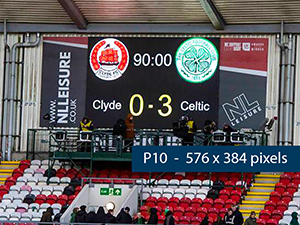 LEDsynergy were recently asked to supply and install a large full colour LED Video Screen in the stadium. Of course, this was something we were privileged to do and were extremely proud to have been selected. One of the reasons it made us happy was that more than 20 years ago we installed an LED scoreboard/ screen in almost exactly the same position. Obviously in more than 20 years the technology has improved enormously and from what was once cutting edge in the late 90s was now very outdated!
Earlier this year, in 2020, we installed a stunning full colour LED screen that can, not only be used as an impressive scoreboard, but can also show video playback of the match, promotional and sponsor videos and well as a multitude of information for the passionate supporters. The screen measures almost 6 metres by 4 metres and is certainly an impressive asset for the Club.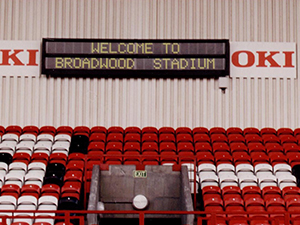 As with all our scoreboards, we can set up the layout of the scoreboard in almost any way you wish and the colours can be chosen to suit your team's colours.
LEDsynergy installs similar external LED scoreboards and video screens in Football, Rugby and Cricket Clubs all over the country, whether your budget is small or huge, your club is premier or local, we will have an LED scoreboard that fits your needs! We also have a huge range of indoor scoreboards for sports halls and indoor stadiums/arenas.
Contact us for more information and see how you can start the process of wowing your supporters too!
Fantastic! - Replacing a scoreboard originally installed by LEDsynergy in the late 90's!
Gerry Mc Mahon
Broadwood Stadium - Clyde FC